Love's Travel Stops is expanding its fast-fill compressed natural gas (CNG) fueling stations to service Class 8 trucks. The corridor between Dallas, Houston and San Antonio, Texas will soon include eight new CNG pumps and should be operational by the fourth quarter of this year.  Love's will add fast-fill CNG to the following locations in Texas: Ft. Worth –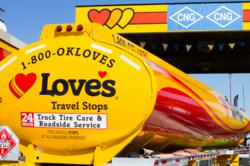 I-35 W, Exit 40; Dallas – I-35/I-20, Exit 466; Rockwall – I-30, Exit 283; Willis – I-45, Exit 95; Houston – 610 Loop, Exit 24A; Katy – I-10, Exit 737; San Antonio – I-35, Exit 144; and Seguin – I-10, Exit 604.
"The major interstate corridors between Dallas, Houston and San Antonio are ideal locations to place fast-fill CNG for adopters of this natural-gas alternative," said Jon Archard, director of fleet sales at Love's. "A typical Class 8 truck can cover up to 450 miles after filling up with CNG, so Love's locations near these three metro areas make sense. A gallon equivalent of CNG is significantly less than a gallon of diesel or LNG, so the drivers and fleets running on CNG see dramatic cost benefits."
Love's began offering CNG for light-duty and consumer vehicles at locations in Oklahoma in 2010. In 2012, the company opened its first fast-fill CNG dispensers for heavy-duty trucks at the Love's Travel Stop off Interstate 40 in Oklahoma City.
"At our existing location in Oklahoma City, drivers are experiencing fill times comparable to fueling with diesel," added Archard. "Speed is a top priority for Love's because our fast-fill CNG dispensers are located on our diesel islands. We are focused on our customers and know professional drivers need to fuel quickly and get back on the road."