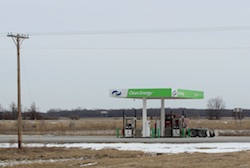 During the Indiana Greener Pastures and Beyond event today in Fair Oaks, Indiana, AMP Americas was invited to join the National Clean Fleets Partnership (the Partnership). The company helps organizations with large trucking fleets move from diesel to compressed natural gas (CNG). The Partnership is run by the U.S. Department of Energy's Clean Cities program.
The announcement was made during the celebration of the grand opening of AMP Americas' renewable compressed natural gas, I65/I75 Corridor March 4, 2013. This corridor from Chicago, Illinois to Orlando Florida. is anchored on the Northern end by the CNG Stations in Fair Oaks IN, and Sellersburg Indiana. The partnership consists of AMP Americas, Fair Oaks Farms, Greater Indiana Clean Cities and the Indiana Office of Energy.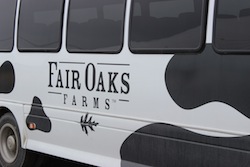 "As we continue to reduce emissions and fuel costs, we are committed to cleaner and greener transportation and are very proud to join this elite group that contains some of the world's most respected businesses," said Nathan Laurell, CEO of AMP Americas. "By the end of the year we plan to open 13 more CNG fueling stations and to lease additional CNG trucks, lessening the financial barriers for companies transitioning to CNG." The company operates one of the largest CNG fleets in the country in partnership with Fair Oaks Farms.
According to AMP Americas, the program will enable them to further its efforts to leverage cleaner alternative fuels and technologies, to increase efficiency and cost-savings, and to reduce emissions. The Partnership offers AMP Americas access to technical information, tools, resources and opportunities for collaboration with the DOE.
In addition to expanding its CNG fueling network, the company owns renewable-CNG assets including a CNG plant that produces natural gas from cow manure through anaerobic digestion.