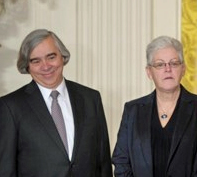 President Obama has announced his picks for Secretary of Energy and Environmental Protection Agency administrator. The President nominated MIT professor Ernest Moniz as energy secretary and EPA official Gina McCarthy as administrator for the agency.
Renewable Fuels Association president Bob Dinneen welcomed the nomination of McCarthy as a solid choice and is interested in getting to know Moniz. "(McCarthy) is knowledgeable, willing to listen, and straight-forward. She knows the EPA inside and out and has typically approached challenges with a common-sense determination to resolve them in a timely manner," said Dinneen. "(We) look forward to meeting with Secretary-designee Moniz to update him on the state of the U.S. ethanol industry, our track record of success in fostering greater energy independence, and the exciting results of ongoing investment in next generation biofuels."

Growth Energy CEO Tom Buis added that "McCarty has been a strong supporter of biofuels and we look forward to working with her to bring sustainable, clean, homegrown American fuels to the consumer." Brooke Coleman, Executive Director of the Advanced Ethanol Council (AEC), said McCarthy is "the perfect choice" because she has been "very engaged on the development of the cellulosic biofuels industry and the administration of the Renewable Fuel Standard (RFS)."
Back in 2009, McCarthy was one of two high-ranking EPA officials to visit farm operations and biofuel facilities in Iowa, including Renewable Energy Group's (REG) Central Iowa Energy biodiesel plant in Newton.