The American Coalition for Ethanol (ACE) is gearing up to meet with nearly 100 of our country's legislators during its annual Biofuels Beltway Fly-in being held in Washington, D.C. March 13-14, 2013. To date, ACE has requested meetings with 100 Senate offices and key House members. As ACE Executive Director Brian Jennings noted to DF early this month, a signification portion of the legislators are "freshman" or new to Congress.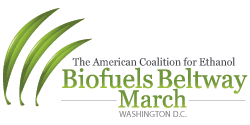 The goal of the meetings are for ethanol advocates to visit with key federal staff and Congressmen to tell their personal stories about how ethanol has benefited them. But ethanol has not just benefited advocates, the renewable fuel benefits consumers each time they fill up at the pump, as shown by numerous studies.
Dozens of meetings are already scheduled. For example. Chris Grundler, Director, Office of Transportation and Air Quality, EPA is confirmed to address the fly-in participants on March 14th. Grundler has previously served as the office's Deputy Director and replaced Margo Oge. He is the primary contact for all ethanol issues including RFS implementation and E15. Both of these issues are key for the industry.
To make this event successful, dozens of ethanol advocates will descend on D.C. To date, 31 people are registered from 7 states including South Dakota, Iowa, Tennessee, Indiana, Illinois, North Dakota, Minnesota, Nebraska and Missouri. While the ACE team and the advocates will have their work cut out for them, the success could be greater if more people attend. The goal: to get people from each state. Let's rally and show D.C how important ethanol is and why the RFS and E15 are critical to America.
It's not too late to register.  To participate, visit www.ethanol.org, or contact Shannon Gustafson at (605) 334-3381 ext. 16 or via email.