Maui has a new wind farm: Auwahi Wind facility on Ulupalakua Rand. On hand for the dedication ceremony were U.S. Sen. Brian Schatz, Hawaii Lt. Gov. Shan Tsutsui and Maui County Mayor Alan Arakawa. There were joined by officials from Sempra U.S. Gas & Power, BP Wind Energy and community leaders. The wind farm consists of eight wind turbines that are situated along the slopes of the Haleakala volcano and will generate enough electricity to power 10,000 homes.
Sen. Schatz said the Auwahi wind farm contributes significantly to Hawaii's clean energy goals. He said the project is consistent with the State of Hawaii's values of cooperation, contributing to a solution nationally on climate change and maintaining the ranching lifestyle on Ulupalakua Ranch. "Auwahi Wind Farm is critically important," he said. "This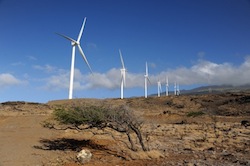 is about keeping Maui Maui and setting an example not just for the state, but the rest of the nation."
Tsutsui, who was born and raised on Maui, said the state and the island welcomed the Auwahi Wind farm as it brought much-needed jobs. More than 180 jobs were created during the project construction. Four full-time employees operate the wind farm today.
"We're always talking about sustainability and being independent," Tsutsui said. "This goes hand in hand with a lot of our initiatives. It's definitely a step in the right direction and we look much forward to other projects."
The 21-megawatt (MW) Auwahi Wind facility represents BP and Sempra's first alternative energy venture in Hawaii. An important component of the project is an 11-MW/4.4-megawatt-hour grid battery system. At its peak, this system is capable of 11 MW sustained for approximately 25 minutes. The battery system's energy helps regulate and sustain power to Maui Electric Co.'s grid during light wind conditions.
Sumner Erdman, president of the Ulupalakua Ranch, said the ranch has benefited from its partnership with Sempra U.S. Gas & Power and BP. "Now, we can preserve much of our ranch land and its grazing areas in open space and continue to raise cattle," he said. "Auwahi Wind will go a long way toward preserving the ranching lifestyle at Ulupalakua and on Maui."