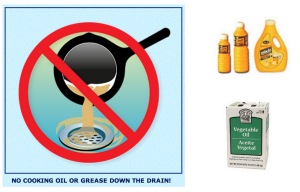 Folks in the Lonestar State don't have to feel so lonely and left out in the cold when it comes to wanting to do the right thing with used cooking grease. Austin-based grease-to-biodiesel maker DieselGreen Fuels has a new service to help residents, schools, churches and other small producers of oil avoid dumping their used grease in landfills or sewers. According to this article in Biodiesel Magazine, just put your oil into a container provided or drop it off and their folks will take care of it:
"This exciting new program provides another opportunity for Austinites to rethink the concept of waste," said Lucia Athens, chief sustainability officer with the city of Austin. "Instead of trash, we can recognize that leftover cooking oil is another resource that can be captured and reused, closing the loop on human activities to make them more efficient."
Locations:
Ecology Action – 707 E 9th St., Austin, TX 78701
Hours: 24/7
M S Pallets – 1713 Hydro Dr., Austin, TX 78728
Hours: 7:30 – 4:30 Mon – Sat.
DieselGreen Fuels has been operating in Austin since 2006, cranking out high-quality biodiesel out of the old grease. The company expects to expand into Dallas and San Antonio later this year.