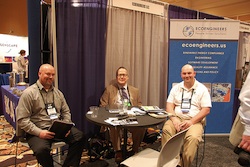 Navigating the regulatory compliance path of the Renewable Fuels Standard and the associated Renewable Identification Numbers (RINs) can be a daunting task for ethanol, biodiesel and other renewable fuel producers. During the recent Iowa Renewable Fuels Associaton's conference, Joanna caught up with Jim Ramm (pictured in the middle of the group) with EcoEngineers, a Des Moines-based firm that offers technical and regulatory compliance advice to producers of the green fuels.
"We help those producers to comply with the RFS and to particpate in RIN markets," Jim said.
He added that RIN prices have gone up dramatically on the ethanol side of the house, and since those higher prices are a reflection of spiked corn prices and dropped ethanol production, it shows the RIN system is working. For biodiesel, RIN prices have dropped because supply increased after the renewal of the $1-a-gallon blender's credit. It gets even more complicated when you start to factor in whether it is a cellulosic RIN and how fuel producers have to have quality assurance plans to qualify for certain types of RINs. That's why EcoEngineers has been working since 2009 with producers to develop a web-based platform for RIN management.
"How do I as a producer generate the RINS, sell 'em, match 'em up with the sale," as well as all of the other compliance issues that allows producers to remain in good standing with the RIN program are what his company works on. Recent stories of RIN fraud hurt the biodiesel RIN market, so quality assurance of those RINs has become more important than ever. "Producers want to differentiate their product and have a RIN that's been vetted and approved by us."
More information is available on the company website, www.EcoEngineers.us.
Listen to Joanna's interview with Jim here: Jim Ramm
View the IRFA Renewable Fuels Summit Photo Album.