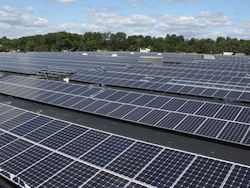 UPS is adding solar power to its distribution facilities located in Parsippany, New Jersey and Secaucus, New Jersey.  The 1.2 megawatt Parsippany project was completed in the fall of 2012 and the 1.2 megawatt Secaucus project is planned for completion in the spring of 2013. These projects will expand UPS's solar power generating capacity from 360 kilowatts to 2,760 kilowatts and will produce in excess of 3 million kilowatt hours of renewable energy per year.
UPS says the projects are part of its continued sustainability initiatives and decided to finance and build its own solar projects following a drop in solar panel installation costs, continued improvements in the technology and the availability of supportive government incentives.
"Federal and state government incentives encouraged our investments in solar energy sources," said Steve Leffin, director of global sustainability at UPS. "We develop, engineer, own and operate our solar capacity, which is a departure from contracted power-purchase agreements in which a company pays a solar power provider for a set price of electricity for 20 years. Under this arrangement, we not only benefit at UPS, but can also help community power grids by providing a hedge against possible energy price hikes during peak usage times."
New Jersey has also established incentives for the generation of renewable power that serve as a catalyst for businesses to adopt renewable energy.  The state is currently second in the U.S. for total installed capacity of solar energy technology.