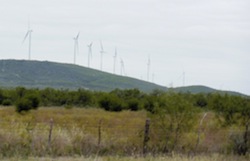 E.ON Climate & Renewables (EC&R) has officially dedicated its new Anacacho Wind Farm. The project, located in Kinney County, Texas, is approximately 14 miles southeast of Brackettville and consists of 55 Vestas 1.8 megawatt (MW) turbines providing 100 MW of power. Anacacho Wind Farm began commercial operation in December.
"We are honored to be a part of the local community and we look forward to providing economic support and renewable, homegrown energy for many years to come," said Steve Trenholm, CEO, EC&R North America. "Wind farms create jobs, and provide an economic shot in the arm to farmers, ranchers, and rural communities across America."
The company says it has invested more than $5 billion dollars in the U.S. in the last five years. Locally, this project will contribute more than $17 million in local taxes, while paying $8 million in local salaries and more than $34 million to landowners. This is the company's 18th operational wind farm in North America.