According to U.S. ethanol organizations, the European Commission (EC) is officially imposing a $83.03 per metric ton tariff on U.S. ethanol entering the European Union (EU).
The Renewable Fuels Association (RFA) and Growth Energy issued a joint statement on the action.
"This tariff is outrageous and based on absolutely no facts or evidence of harm. An extensive investigation was conducted and there was no proof to substantiate the European Union's protectionist claims of dumping. Imposing a country wide anti-dumping tariff is unprecedented and unfounded. This is blatant protectionism at its worst. This is absolutely not the final chapter. We will challenge this policy in every manner possible."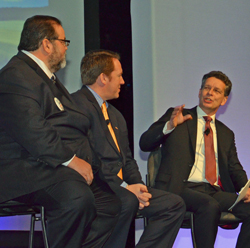 During the recent National Ethanol Conference, the Secretary General of the European ethanol organization ePure was on a panel with RFA president and CEO Bob Dinneen, as well as representatives from other ethanol producing countries, including Canadian Renewable Fuels Association president Scott Thurlow pictured here between the other two.
On the panel, ePure's Rob Vierhout was asked why they were pursuing trade actions against U.S. ethanol. "It's completely legitimate what we are doing," said Vierhout, who engaged in a back and forth with Dinneen about subsidies and dumping. Dinneen made the point at the time that a country wide anti-dumping tariff is protectionist. "That is a violation of WTO, a violation of every trade concept that has ever been established," said Dinneen. "If there's anti-dumping, you're supposed to impose a fee to penalize the company that's doing the dumping. You didn't find any so you're penalizing everybody."
Listen to exchange between Vierhout and Dinneen here: ePure's Rob Vierhout and RFA's Dinneen

2013 National Ethanol Conference Photo Album

2013 NEC Golf Tournament Photo Album