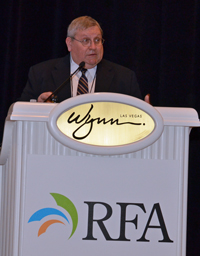 Despite facing major challenges in 2012, the ethanol industry still created more than 380,000 jobs and $43 Billion in Gross Domestic Product, according to the latest analysis conducted by Cardno-ENTRIX and commissioned by the Renewable Fuels Association (RFA).
"The study reaffirms that this is an important industry for the overall economy but more importantly for rural America," said study author John Urbanchuk at the National Ethanol Conference where the study was released. According to Urbanchuk, the production of the estimated 13.3 billion gallons of ethanol in 2012 directly employed 87,292 Americans. An additional 295,969 Americans found work in positions indirectly affiliated with or induced by ethanol production. "Research and development activities are part of that as well," he said. "That's a very vital aspect of this entire industry as we move forward."
Even with the drought last year, domestic ethanol production of 13.3 billion gallons was the second highest annual production level in history, helping to displace 465 million barrels of imported oil worth $47.2 billion.
Listen to my interview with Urbanchuk here: NEC 13 John Urbanchuk interview

2013 National Ethanol Conference Photo Album

2013 NEC Golf Tournament Photo Album