During the National Biodiesel Board Conference & Expo, several Next Generation Scientists displayed their biodiesel research through "posters". These budding scientists are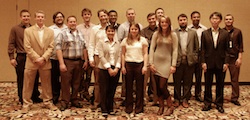 smart, talented, creative and innovative. Did I mention they are innovative? These college students are conducting research that has never been done before and as it moves forward, should help improve biodiesel production. A bit of a plug- if you find the research interesting and of value to the industry, consider supporting the students' continued work.
Here are several interviews with the Next Generation Scientists that discuss their research, why they became involved in the program, and advice for students who are still looking for their niche.
James Anderson, Southern Illinois University: James Anderson
Qingshi Tu, University of Cincinnati: Qingshi Tu
Nina De la Rosa, Florida International University: Nina De la Rosa
Namrata Dangol, University of Idaho: Namrata Dangol
Not sure you want to get involved in Next Generation Scientists? Then be sure to listen to Deval's interview. Click here to learn more about becoming involved in Next Generation Scientists for Biodiesel.
Deval Pandya, University of Texas at Arlington: Deval Pandya