The ethanol industry is responding to legislation proposed by U.S. Senators Roger Wicker (R-Miss) and David Vitter (R-La) to block the continued roll-out of E15. The Senators claim the Environmental Protection Agency (EPA) acted irresponsibly with its approval of the ethanol blend and claim that E15 will cause a negative impact on families and businesses should E15 be allowed in the marketplace.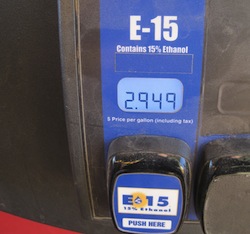 The industry as a whole is saying that not allowing E15 in the marketplace would take choice out of consumer hands in order to protect the oil company interest over American pocketbooks. The Fuels America coalition says the bill ignores the millions of miles and years of testing the fuel and points to the fact that both Ford and GM have approved the use of E15 in their new vehicles.
"Instead of protecting oil companies, Congress should address what is actually hurting America families and businesses: high gas prices and dependence on oil. Using renewable fuel last year reduced the need for imported oil by more than 465 million barrels, and saving the U.S. $47.2 billion. Using E10 reduced the cost of gasoline by $1.09 per gallon in recent years, and opening up the market to more of this cleaner, low-cost fuel will only increase the potential for more savings," according to a Fuels America statement.
Bob Dinneen, President and CEO of the Renewable Fuels Association (RFA), pointed out that now that ethanol represents 10 percent of the American fuel supply and growing, oil companies are panicking. "They are fighting to preserve their monopoly, their unfair and outrageously expensive tax credits, and most of all, their record breaking profits. Ethanol is no longer a gnat nipping at their precious ankles. It is a threat to the oil-centric status quo. The RFA and the ethanol producers we represent would welcome a chance to meet with Senators Wicker and Vitter to explain the benefits of E15 and dispel myths and any lingering doubts."
Dinneen added that the facts are on "our side".
"The Wicker-Vitter bill is a big, wet kiss for Big Oil on Valentine's Day," said Monte Shaw, executive director of the Iowa Renewable Fuels Association (IRFA). "Banning a legal product from competing with foreign oil is the ultimate in big government, nanny-state protectionism for the coddled petroleum industry. I guess we should no longer be surprised by the lengths Big Oil will go to protect its federal petroleum mandate. E15 is a legal fuel for American motorists to choose, but Big Oil doesn't want consumers to have that choice."
The industry also pointed out that Big Oil has enjoyed more than a century of subsidies at taxpayers' expense and nearly 40 years of a "federal petroleum mandate". "Why is Big Oil so afraid of a little competition from American farmers?," added Shaw. "Is it because they know their foreign oil can't compete with lower-cost, cleaner-burning, higher-performing ethanol?"