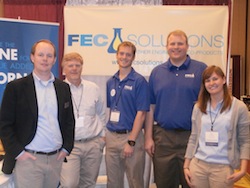 Ethanol producers need to squeeze every penny out of their operations. But one expert in the field of corn oil wonders why some refiners aren't trying to capture the corn oil produced when they make ethanol.
"It seems to be a fundamental piece of ethanol plant profitability," Joe Riley, General Manager with FEC Solutions told Joanna during the recent Iowa Renewable Fuels Association (IRFA) Renewable Fuels Summit. He should know. His family has been operating in the fats and oils business for 26 years and lives in the heart of farming and ethanol production, Iowa.
With a potential to extract between 1.5 and 1.7 million gallons of corn oil from a 50 million-gallon-per-year ethanol plant, Joe questions why only about half of the refiners aren't trying to capture that corn oil. "If you're not extracting corn oil, you have to be asking yourself, "Why?" He said that worries of losing value in dried distillers grains (DDGs) have pretty much been answered, and with biodiesel operations expected to be using even more available oils, including corn, Joe pointed out that some refiners might be losing out on potential profit.
He does understand that some operators find it tricky to get the right market for their corn oil. That's where FEC Solutions comes in. "Usually ethanol plants are really good at making and selling ethanol. We're really good at selling oil… whether that's in the feed industry, biodiesel industry, export markets, or specialty or oleo chemical markets."
Find out more at their website, fecsolutions.com.
Listen to Joanna's interview with Joe here: Joe Riley
View the IRFA Renewable Fuels Summit Photo Album.