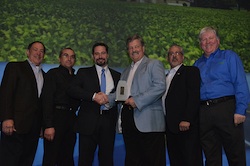 If you are looking for a little inspiration for biodiesel, look no further than Las Vegas, or now the city I have renamed Las BioVegas. A community group of innovators, known as the Las Vegas Biodiesel User Group, became early adopters of the fuel blend and were awarded the Eye on Biodiesel: Inspiration award during the 10th Annual National Biodiesel Conference and Expo aptly held in BioVegas.
Gary H. Weinberg, Western Sierra Services; Ron Corbett, City of North Las Vegas; Frank Giordano, Clark County School District; James Morwood, Las Vegas Valley Water District; Dan Hyde, City of Las Vegas (retired) were all part of the crew.
Listen to the interview with Gary Weinberg here: Weinberg on Innovation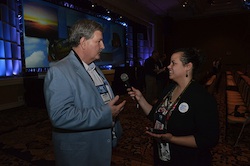 As Joe Jobe, CEO of the National Biodiesel Board rightly pointed out during the award ceremony, luckily for biodiesel, what happened in Vegas didn't stay in Vegas. As Jobe explained, this group of biodiesel pioneers championed the alternative fuel against all odds in the 1990s to help it become the established fuel it is today. The Las Vegas Biodiesel User Group was among the first users of biodiesel in the nation. These fleets worked to overcome resistance, remove technical obstacles, and even successfully challenged large diesel equipment manufacturers to support biodiesel.
Listen to the interview with Frank Giordano here: Giordano on Biodiesel
"In the beginning, biodiesel had its struggles to gain support, like any new fuel," said Ron Corbett, Clean Cities Coordinator for Las Vegas. "Those of us who were early champions are gratified to see biodiesel finally gaining the momentum it needs to become the fuel of choice."
Listen to the interview with James Morwood here: Morwood on Leading the Pack
Listen to the interview with Russell Teall here: Teall on Developing Biodiesel Technology