Former North Dakota Senator Byron Dorgan is truly an advocate for biofuels. While in office, Dorgan authored the first renewable fuel bill, requiring 8 billion gallons of biofuels. When President Bush took office, he asked Dorgan to help write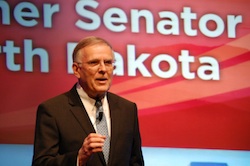 the bill that today is the Renewable Fuel Standard (RFS).
Dorgan gave an inspiring and funny presentation during the National Biodiesel Board's 10th Annual Conference in Las Vegas. While he may have regaled the large crowd with funny stories, what he does not find funny is the attack on biodiesel and the RFS. He has dedicated himself to continuing the fight. He said, "It is very important we be relentless with this success story."
After retiring from the Senate, Dorgan joined the Bipartisan Policy Center, where he along with several others, are continuing to focus on the role of renewable energy and that includes increasing the use of biodiesel.
Dorgan left the audience with three "lessons". First, bad news travels half way around the world before good news gets its shoes on; the success of a rain dance depends a lot on the timing; and when you hit someone on the head with a book and get a hollow sound, it doesn't mean the book is empty. The lesson behind the quotes? We have facts on our side. Don't give up and continue to fight the good fight.
2013 National Biodiesel Conference Photo Album
We must be relentless