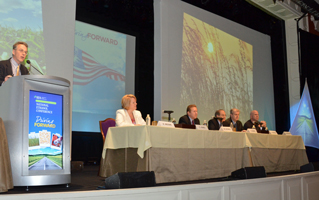 Representatives from General Motors, Toyota, Honda, Volkswagen and Mercedes Benz talked "Future Fuels and Higher Octane" at the National Ethanol Conference last week in Las Vegas.
Kristy Moore, Vice President, Technical Services, Renewable Fuels Association moderated the panel and said the manufacturers are facing some real challenges.
"They are under significant pressure to create a vehicle that meets these regulatory requirements and meets a 54.5 fleet economy MPG by 2025," adding that consumers don't want to give up the size and convenience their SUVs are giving them now.
Coleman Jones, Biofuel Implementation Manager, General Motors, pointed to Brazil, where that country made the regulatory and tax changes in favor of E100 vehicles but faced some real challenges when oil prices fell dramatically, and consumers became worried whether they could get the high-blend fuels and use those vehicles. That's when automakers recognized being flexible was the way to go. "In 2003, General Motors and Volkswagen introduced flex-fuel vehicles. These proved to be spectacularly successful in the marketplace. This is what the customer wanted."
Matthew Kevnick, Senior Principal Engineer, Toyota Motor Engineering & Manufacturing N.A. talked about how his company will be incorporating E15 into its owners manuals. Honda North America's Vice President of Government and Industry Relations, Ed Cohen, said they want electric and fuel cell vehicles. Stuart Johnson, Senior Manager, Volkswagen Group of America, told the gathering they are releasing a full line of gasoline engines and incorporating FFVs, while Bill Woebkenberg, U.S. Fuels Technical and Regulatory Affairs, Mercedes-Benz Research & Development North America, Inc., said his company is interested in higher octane with higher level blends of ethanol.
Listen to the panel discussion here: NEC 13 Car Panel

2013 National Ethanol Conference Photo Album

2013 NEC Golf Tournament Photo Album