The 2013 National Automobile Dealers Association and American Truck Dealers convention kicks off this week in Orlando, Florida and heading into the event General Motors has announced it new 2014 Chevy Cruze light-duty diesel passenger car is approved for use with B20 (20 percent biodiesel).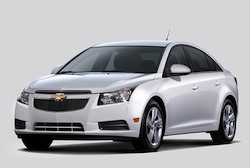 "We applaud General Motors for its foresight in approving the new diesel Chevy Cruze for use with B20 biodiesel blends," said Steve Howell, Technical Director for the National Biodiesel Board (NBB).  "Many people do not realize that today's new technology diesel engines powered by ultra-low sulfur biodiesel blends provide tailpipe emissions as clean or cleaner than natural gas or gasoline, while providing superior fuel economy, horsepower, and durability."
"In addition," said Howell, "when you combine the increased efficiency diesel engines with the low carbon nature of an Advanced Biofuel like biodiesel, new technology diesel engines are positioned to become the clean-and green-technology of the future, and we're proud to see GM leading the way with its support for B20."
The 2014 Chevrolet Cruze Clean Turbo Diesel features an advanced 2.0L clean diesel engine that will offer an estimated 42 mpg highway with an automatic transmission and based on GM testing. According to NBB, clean diesels using modern diesel exhaust technology and ultra low sulfur fuel are over 90 percent cleaner than older models, and the Chevy Cruze is the cleanest diesel passenger car model ever produced by General Motors.
Other automakers are adding biodiesel-approved vehicles to their line-up as well including Ford and Chrysler.