The U.S. Department of Agriculture (USDA) has released a comprehensive report that synthesize the scientific literature on climate change effects and adaptation strategies for U.S. agriculture. The report, "Climate Change and Agriculture in the United States: Effects and Adaptation," was created a an input to the National Climate Assessment with scientists from the federal service, universities, non-governmental organizations, industry, tribal lands and private sectors contributing to the peer-reviewed study. It is open for public comment until
"These reports present the challenges that U.S. agriculture and forests will face in this century from global climate change," said William Hohenstein, director of the Climate Change Program Office in USDA's Office of the Chief Economist. "They give us a framework for understanding the implications of climate change, in order to meet our future demands for food, feed, fiber, and fuel."
The reports indicate how climate change is affecting U.S. farms, forests, grasslands, and rural communities. The report finds that while U.S. agriculture and resource management have long histories of successful adaptation to climate variability, the accelerating pace and intensity of climate change presents new challenges to be addressed.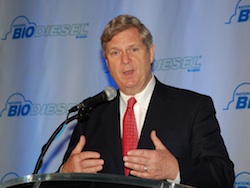 For example, the report indicates increases in atmospheric carbon dioxide, rising temperatures, and altered precipitation patterns will affect agricultural productivity. Climate change will exacerbate the stresses already occurring from weeds, insects, and disease. The report finds that increases in the incidence of extreme weather events will have a greater influence on agricultural productivity. 
In addition the report finds that over the next 25 years, the effects of climate change on agricultural production and economic outcomes for both producers and consumers in the United States are expected to be mixed, depending on regional conditions. Beyond 2050, changes are expected to include shifts in crop production areas, increases in pest control expenses, and greater disease prevalence.
Ag Secretary Tom Vilsack gave a few remarks about the study during the 10th Annual National Biodiesel Board Conference & Expo. Listen to his remarks on climate change here: USDA Climate Change & Ag Study