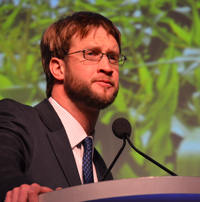 It's ironic that the "Phantom Fuels Reform Act of 2013" was introduced in the Senate on Thursday at the same time a panel discussion on "Dispelling the Myth of the Phantom Fuel" was going on at the National Ethanol Conference where four different cellulosic biofuels companies talked about how they will be making commercial quantities of the fuel this year.
The legislation, which would have an impact on the Renewable Fuel Standard (RFS), was introduced by Sens. Jeff Flake (R-Ariz.), David Vitter (R-La.) and Michael Crapo (R-Idaho), following the introduction of its House companion yesterday by Reps. Gregg Harper (R-Miss.) and Jim Matheson (D-Utah).
"The legislation wants to make the RFS reflect the marketplace instead of push the marketplace, which is what the oil industry wants because that would short circuit the RFS," said Brooke Coleman, executive director of the Advanced Ethanol Council.
Listen to an interview with Brooke here: AEC's Brooke Coleman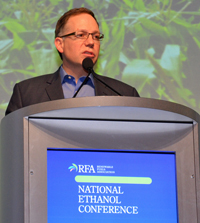 One company that expects to be producing cellulosic ethanol very soon is INEOS Bio, according to vice president Dan Cummings. "We finished construction on our first facility in Vero Beach, Florida, have commissioned it and now we're in the final start up phase moving towards making cellulosic bio-ethanol," said Cummings. "We're making it out of waste – agricultural, yard waste and vegetative waste."
Target date to be on line is this quarter, moving toward full production this year with a capacity of eight million gallons. "It's a first of a kind technology in the world and we look to license and build other plants globally," Cummings said.
Listen to my interview with Dan here: INEOS Bio VP Dan Cummings
Others on the "Phantom Fuel" panel included Beta Renewables CEO Guido Ghisolfi, Poul Ruben Andersen with Novozymes North America, and Martin Mitchell of Clariant.
Listen to the whole panel here: NEC Phantom Fuel Panel
2013 National Ethanol Conference Photo Album

2013 NEC Golf Tournament Photo Album