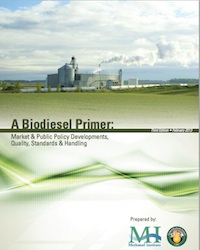 The Methanol Institute released a report on the worldwide use of production of biodiesel during the 10th Annual Biodiesel Conference & Expo held in Las Vegas. Methanol is one of the products used to make biodiesel. "A Biodiesel Primer: Market & Policy Development, Quality, Standards and Handling," provides the latest information on the role of methanol in biodiesel production an global policy issues and was prepared by the Global Biofuels Center.
"The methanol and biodiesel industries are partners in a critical effort to bring safe, reliable and affordable alternative fuels to the world's transportation market," said Gregory Dolan, acting CEO of the Methanol Institute.
Today there are 124 biodiesel production facilities in the U.S. and another 28 that are in the development stages.