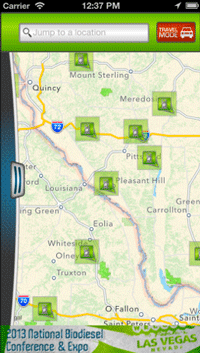 Ever wondered how to find local biodiesel retail filling stations? Now you don't need to with the BiodieselNow smart phone app.

BiodieselNow, a new app offered by the National Biodiesel Board (NBB), gives users the ability to quickly find biodiesel fueling stations, track fuel purchases and earn rewards.
Introduced today at the 2013 National Biodiesel Conference, the app is available for both Apple and Android devices and provides valuable mapping information on biodiesel fueling stations across the US.
BiodieselNow app users can stay up-to-date on the latest biodiesel news, including federal and state regulations, quickly locate biodiesel fueling stations, and easily log their biodiesel usage along the way. Every gallon of fuel purchased earns biodiesel reward points that are redeemable toward biodiesel merchandise in NBB's online store.
"This app puts America's advanced biofuel in the palm of your hand. We are very excited to be able to participate more actively in the mobile communication world and use the latest technology to get even more people tuned in to biodiesel," said Doug Whitehead, Director of Operations of NBB. "As the biodiesel industry continues to advance and consumption grows, we feel it's important to help users find those retail locations and improve communication between NBB and the industry."
There are hundreds of retail stations making biodiesel blends available to the public both at filling stations and fuel docks. The BiodieselNow app could not have been launched at a better time and makes finding those stations easier than ever before. Download the app today to find biodiesel, now.

You can find the app in the iTunes Store and Google Play.