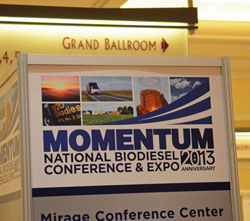 Hello and welcome to the 2013 National Biodiesel Conference. We're at the Mirage in Las Vegas and ready to get some momentum going for the industry.
Joanna Schroeder and I will be here providing coverage which will include photos and interviews so check back often. In fact, I've already got a photo album started: 2013 National Biodiesel Conference Photo Album
While we're here, Cindy will be over at the Wynn covering the National Ethanol Conference. Yep, they are at the same time this year. It is making it interesting for your biofuel bloggers to get it all done but we will.