Chile is ramping up its renewable energy sector with two recent project announcements. SunEdison and the Chilean mining and steel group CAP have signed an agreement to construct what the two companies believe will be the largest solar photovoltaic power plant in Latin America and one of the largest on the world. The plant is designed to have an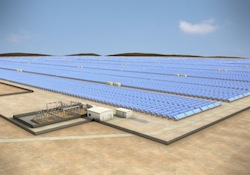 installed capacity of 100MW (DC) and will be located in the Atacama Desert of Chile. It is estimated that the plant will produce as much as 15 percent of the mining group's energy needs.
The plant will be built using SunEdison technology. More than 300,000 Silvantis monocrystalline silicon modules will be installed, which according to the company, are made from non-toxic, non-polluting material that can be recycled at the end of its useful life, together with solar trackers designed by SunEdison, for which steel produced by CAP is expected to be used.
Mainstream Renewable Power, has announced they have completed financing and begun construction of its 33 MW Negrete Cuel Wind Farm in southern Chile. The farm is expected to be fulling operational in September 2013. Goldwind is supplying the project with GW87 1.5 MW wind turbines. Mainstream also owns and operates a 150MW Calama Oeste wind farm located in Atacama Desert.
Mainstream's Chief Executive Eddie O'Connor said, "I am delighted to announce Mainstream's fifth project to go into construction across three continents in a period of just six months. Since entering the Chilean market back in 2009 Mainstream has built a very strong and growing portfolio of wind and solar projects, many of which are in the mid to late development stages.