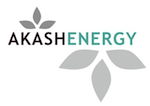 Akash Energy has announced a partnership with Gulf Hydrocarbon Partners a supplier of renewable fuels including biodiesel. The company has terminals in Houston, Texas and Hartford, Illinois.  The partnership will provide distribution infrastructure for biodiesel blending.
"We are very excited about this relationship as it helps achieve our goals of providing a strong distribution network for our customers, ensuring reliable, consistent supply," said  Justin Heller, President, Akash Energy.
Akash Energy established one of the first biodiesel track racks in the San Francisco Bay area as well as a truck rack in Elizabeth New Jersey. The focus on the company is to develop efficient distribution infrastructure to provide reliable and consistent biodiesel supply to the end-user market.
Jess Hewitt, president of Gulf Hydrocarbon, added, "Collaborating with Akash Energy has been exciting so far. We have already seen the benefits of working together, and I am optimistic about the additional value we will be able to offer our customers. Akash Energy definitely brings a unique approach, and I enjoy the dynamic feel they bring to the table."