Anne Korin, co-author of "Turning Oil into Salt," and the new book "Petropoly," gave a thought provoking presentation during the 7th Annual Renewable Fuels Summit hosted by the Iowa Renewable Fuels Association (IRFA). Korin is the co-director for the Institute for the Analysis of Global Security, a think tank focused on energy and security, that she says takes no money from any companies in the energy or alternative energy sector.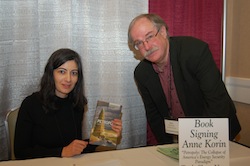 She began her presentation by noting that over the past seven or eight years our oil imports have fallen over 65 percent to 45 percent, and yet in 2012 there were record gasoline prices. "And if that didn't show to Washington, the people thinking about energy security, the traditional paradigm, which is only if we reduce our oil imports, we're going to face lower oil prices. If that traditional paradigm was not proved to be completely wrong, then nothing will show it to be," said Korin.
The solution: to rethink the fuel paradigm. The country needs more fuel choice: from ethanol, biodiesel, methanol, electrification and more, although she said the lowest cost would be liquid fuel choice. She noted that use of biofuels is not a battle the industry can win on its own and points to a bill that has been re-introduced again called the Open Fuel Standard. The bill is technology neutral. "But this bill is not getting out of the barn," said Korin, "because the industry has not put it's full weight and its full energy into pushing this bill forward."
"And I would say as long as you think about your industry in a vacuum, which goes together with thinking of it as an additive, which goes together with thinking of being a big fish in a small pond, and you don't shift your thinking to be a small fish in a very large pond and that small fish is bigger than the big fish in the small pond, than you're not going to have the desperately needed impact on the safety and security of the United States as a whole that you really could and ought to have," she continued.
Korin concluded, "It's very important for the country that the ethanol industry be engaged in this fight."
Listen to Anne Korin's full remarks here: U.S. Needs to Open Cars to Fuel Competition
View the IRFA Renewable Fuels Summit Photo Album.