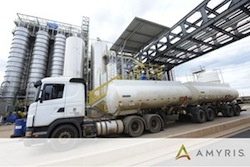 Amyris has shipped it first commercial product from its plant in Brazil. The facility was the company's first purpose-built industrial fermentation facility and produces Biofene, the company's brand of renewable farnesene, to be used in a range of specialty chemical and fuel applications.
"This initial shipment marks the successful completion of our start-up activities. We have operated multiple tanks without contamination or surprises through several production runs during the first month of operation," said John Melo, President and CEO of Amyris.
"We are now focused on ramping up Biofene production and delivering product to our customers, from renewable diesel for bus fleets in Brazil to squalane emollient globally and soon a range of specialty chemical applications," Melo concluded.
Amyris's Biofene plant in Brotas, in the state of São Paulo, Brazil, sources its sugarcane feedstock locally from the Paraíso mill. Prior to the start-up of this facility, Amyris relied solely on contract manufacturing for commercial production.