Aerosol Control Technologies (ACT) of Washington University in St. Louis, has won the $10,000 Missouri Clean Energy Student Challenge. The team will compete for more than $300,000 in prizes in the second annual Clean Energy Student Challenge on April 4, 2013 in Chicago. ACT is developing an advanced particulate matter capture system that will significantly improve diesel engine efficiency using electrostatic precipitators.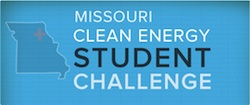 "ACT absolutely exceeded expectations and brought a first-class business plan with cutting-edge technology to the Challenge," said Joshua Campbell, executive director of the Missouri Energy Initiative who held the Missouri competition. "This was their second year and their success clearly demonstrates what a tremendous learning experience it is. They took what they learned last year and created an application that I think could take them to the national competition."
Applications to the Missouri Clean Energy Student Challenge were submitted in a range of technology areas from waste-to-energy solutions and biofuels to solar cells and new wind energy innovations. As the Missouri winner, ACT will compete in the 2013 Challenge and will receive mentoring and training to prepare business plan presentations to a judging panel comprised of venture capitalists, corporate investors and business leaders. The winner of the 2013 Student Challenge will compete in the U.S. Department of Energy's National Clean Energy Business Competition in Washington, D.C. this summer.
"The Student Challenge is truly bringing the best and the brightest students from some of our nation's most prestigious universities to the forefront of the clean energy world," added Amy Francetic, executive director of the Clean Energy Trust. "They have taken wonderfully innovative technologies and built viable business plans around them."