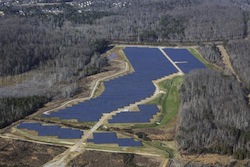 Volkswagen (VW) has "powered up" the largest solar installation at an automotive manufacturing facility in the U.S. and the biggest solar installation in the state of Tennessee. The Volkswagen Chattanooga Solar Park is now part of the the company's green auto plant and was the first in the world to receive the top LEED certification.The Volkswagen Chattanooga Solar Park occupies 33 acres, or half of the 66-acre land parcel adjacent to VW's state-of-the-art manufacturing plant. The solar park contains 33,600 solar modules from JA Solar designed to produce 13.1 gigawatt hours of electricity per year.
The electricity produced from the solar park is expected to meet 12.5 percent of the energy needs of Volkswagen's Chattanooga manufacturing plant during full production and 100 percent during non-production periods. The plant covers 1.9 million square feet and employs more than 3,000 people who manufacture the Volkswagen Passat sedan. For Volkswagen, the solar park in Chattanooga will rank as the automaker's largest photovoltaic installation worldwide.
Frank Fischer, CEO and Chairman of Volkswagen Group of America, Chattanooga Operations LLC, said, "We are proud to power up the biggest solar park of any car manufacturer in North America today. The solar park," he said, "is another proof point of Volkswagen's worldwide commitment to environmental protection under its 'Think Blue. Factory' philosophy, a broadly focused initiative for all Volkswagen plants to achieve more efficient use of energy, materials and water and produce less waste and emissions."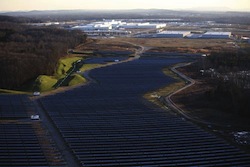 Fischer added, "Powering up the solar park also validates the awarding of the LEED Platinum certificate to Volkswagen Chattanooga, which is still the only car factory in the world that has earned such an honor."
VW will consume 100 percent of the electricity generated from the polycrystalline solar modules mounted on a Unirac racking system. Ten SMA inverters will convert the solar energy from direct current (DC) to alternating current (AC) to be used to power the electrical installations in the manufacturing plant. Silicon Ranch will own the solar park and sell the electricity to Volkswagen under a 20-year Power Purchase Agreement (PPA).
"We're proud to partner with VW on this important project." said Matthew Kisber, Silicon Ranch President and CEO. "Today's 'Power Up' launch not only greatly enhances the energy efficiency of VW's Chattanooga plant and reaffirms its place as a true global environmental leader, but it also symbolizes the beginning of a new era in manufacturing operations throughout the region and worldwide. The scope of this solar park and the breadth of how much of the sun's energy will be harnessed here will most certainly have a powerful and lasting positive impact on both our environment and our economy."