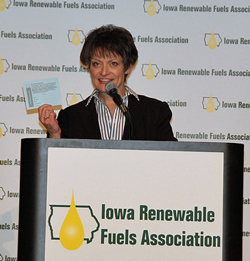 If you want to spend a day next week with Iowa Gov. Terry Branstad, author and energy security expert Anne Korin, Growth Energy President Tom Buis and USDA Under Secretary Dallas Tonsager – today is the last day of pre-registration for the 7th Iowa Renewable Fuels Summit on January 30 in Altoona.
Registration is free and you can register on site, but Iowa Renewable Fuels Association Managing Director Lucy Norton says it's good to know about how many people will be attending. "It's open to the general public," said Norton. "We encourage everyone to come out and hear more and learn more about renewable fuels."
Much of the summit is focused on the importance of renewable fuels to Iowa, one of the leading states in the production of both ethanol and biodiesel. "The summit is the way that the renewable fuels industry gets the word out on renewable fuels and what it means to the state economy, for the federal economy," Norton said, noting that both Gov. Branstad and Lt. Gov. Kim Reynolds will be at the event this year.
Norton says the Iowa RFA will be encouraging attendees to sign a letter to Chrysler. "We are asking Chrysler to follow suit with General Motors and Ford and approve their vehicles for the use of E15," she said.
Find out more about what is in store at the 2013 Iowa Renewable Fuels Summit in this interview: Lucy Norton with Iowa RFA