The Iowa Wind Energy Association has announced the dates for its 6th Annual Wind Conference: March 25-27, 2013 at the Iowa Events Center in Des Moines. This year's event will focus on four general themes that reflect the national and world leadership position that Iowa has achieved in the wind energy sector. Topics include technology development, small and community wind, operation and maintenance, education and training, and research. Confirmed speakers include Governor Terry Branstad and Lt. Governor Kim Reynolds.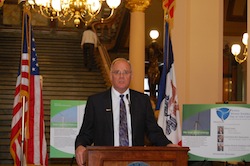 General session presentations will focus on national policy and wind energy growth and sustainability issues. Many of these sessions will focus on the utility scale segment of the wind energy industry with a major presentation about transmission development and large scale wind farm deployment in Iowa and the nation.
Again this year, IWEA will provide a Research Poster Display project, sponsored by Exelon Energy, that will provide an opportunity to highlight research being done to improve the function and profitability of the wind energy industry.
I had the opportunity to speak with IWEA Executive Director Harold Prior, Ph.D. during Iowa Wind Energy Day at the Iowa State Capitol. Prior said that the conference has a good history of attracting the six Iowa Congressional delegation who give attendees an update on public policy issues in Washington.
Prior noted that the wind industry is a relatively young industry and one of the key benefits of the conference is the ability for IWEA members and attendees to network.  Despite its youth, Iowa is the nation's leader in the number of wind energy manufacturing companies and number of wind energy jobs. Prior said Iowa is ranked as the 7th best wind resource in the nation and the state is a central location with convenient access to major navigable rivers and the national interstate highway system.
For more information about the conference, listen to my interview with Harold here: 6th Annual Wind Energy Conference