A European consortium, consisting of DNV KEMA, Fraunhofer ISE, EMD International, RAH and RFVV, have begun an EU funded project to develop modeling and simulation tools for optimally integrating electrical vehicles (EVs) into electricity networks. The project, Novel E-Mobility Grid Model (NEMO), will play a key role in the continued development of electric mobility in Europe and will also be an important element in the further development of smart grids.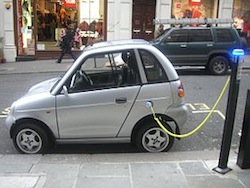 As electric vehicle adoption grows in Europe and charging stations are installed and connected to the existing grid, the NEMO project will support European grid operators and service providers in assessing the impact of EVs on the power grid, and to evaluate possible solutions such as grid extension or load management.
The consortium will develop a NEMO simulation and optimization tool suite based on the existing complementary simulation tools PLATOS, SimTOOL and energyPRO, which were each developed by the respective NEMO core partners. When combined, the simulation tools will address both market-oriented and technical problems that may result from the predicted influx of EVs on the electricity grid, such as identifying grid constraints in the network or determining the optimal use of available electricity generators.
"Our three tools will be further extended and integrated into one single tool suite to assess the impact of a large volume of EVs on both the electricity network and energy markets in its entirety. The combined project team will be able to offer cooperative services that none of the partners could offer individually," said Dr. Martijn Huibers, NEMO project coordinator at DNV KEMA.
The project team aims to enable the exchange of simulation data between the models of each tool, and the NEMO consortium will work closely with stakeholders to ensure the suite addresses key market needs.