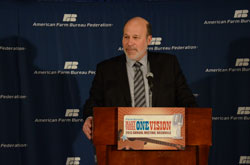 Delegates for the American Farm Bureau Federation (AFBF) last week voted overwhelmingly to support continuation of the Renewable Fuels Standard (RFS), despite the fact that membership in the organization includes a substantial percentage of livestock producers.
"The livestock guys still have concerns about high feed costs, and I'm one of them, I'm a beef producer," said AFBF president Bob Stallman. "On the other hand, we have this renewable fuels infrastructure that's in place, a very large industry that employs lots of people and provides a market for a lot of products, so we need to be very careful not to have policies trying to dismantle that."
There were 362 voting delegates at the 94th AFBF Annual meeting in Nashville last week representing every crop and livestock sector in the 50 states and Puerto Rico. The policies approved at the annual meeting will guide the nation's largest general farm organization in its legislative and regulatory efforts throughout 2013.