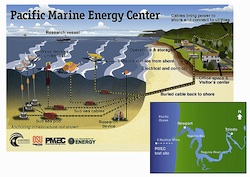 Newport, Oregon has been selected as the home for future site of a utility-scale, grid connected, wave energy test site. The project will be hosted by the Pacific Marine Energy Center (PMEC) and run by the Northwest National Marine Renewable Energy Center (NNMREC) based at Oregon State University. As part of the project, PMEC, will test energy generation potential and the environmental impacts of wave energy devices, at an ocean site about five miles from shore. Subsea cables will transmit energy from the wave energy devices to the local power grid, and data to scientists and engineers at on-shore facilities.
"PMEC represents a major step toward the development of energy from Oregon's ocean waters," said Jason Busch of the Oregon Wave Energy Trust. "I'm certain that Oregon will reap benefits from PMEC for many years to come, and the research and development performed at PMEC will help usher in this new form of reliable electricity from the sea." The first installment of funding for PMEC was received in September, 2012, consisting of $4 million from the U.S. Department of Energy, along with a non-federal cost match.
PMEC design and specific site characterization will begin soon, along with the permitting and regulatory process. The exact ocean location for the PMEC site will be finalized in the next few months in a zone that has been selected in collaboration with ocean stakeholders. The goal is to install the wave energy technology in an area that will not impede shipping lanes and takes environmental impacts into consideration.
The project will consist of four "test berths," open spaces of water dedicated to testing individual devices or small arrays of devices, each of which will be connected to the community's electrical grid. Data associated with environmental and human dimension impacts will also be collected. Completion will take several years.
"This site selection builds on the global reputation of Oregon State University in both renewable energy research and marine science," added Rick Spinrad, OSU vice president for research. "Future research results from this site will help ensure our state's leadership in these critical areas."