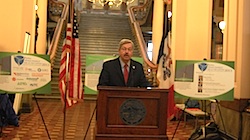 January 16, 2013 was Iowa Wind Energy Day, and dozens of companies showcased their wind energy technologies to Iowa Governor Terry Branstad along with state legislators. The second annual event was hosted by the Iowa Wind Energy Association (IWEA). Branstad gave remarks as part of the program, and congratulated IWEA for its fifth year of continuous operations. "You sure have done a lot to make Iowa a better place these last five years," said Brandstad who was recently the chairman of the Governor's Wind Energy Coalition. "And you have build an impressive membership of nearly 200 members representing all aspects of wind energy."
"As governor way back in 1983, my first in office, I had the honor of signing the first renewable generation portfolio. And as a result of that, we now have over 20 other states that have copied Iowa's law," noted Branstad.
Branstad said that Iowa remains a "real leader" in installation and capacity. Iowa is number one in its electricity produced by wind exceeding 20 percent, more than any other state. "Something we can be very proud of," he said. "We're first in the number of wind energy related manufacturing facilities and wind related businesses as well. Perhaps the most important impact wind has had on our state is high quality, good paying jobs and also been a good source of rental income for our farmers," continued Branstad.
He said he was pleased to see the wind Production Tax Credit was passed as part of the fiscal cliff legislation that passed on New Year's day. "Now don't get me wrong, the fiscal cliff package was a mixed bag, but at least we got this important piece of legislation passed as part of the package," he said. "While the deal is certianly not perfect, I'm happy to have played a leadership role on behalf of the industry and how important this is to the Iowa economy."
Listen to Iowa Governor Terry Brandstad's full remarks here: Iowa Wind Energy Day
See the 2013 Iowa Wind Energy Day Photo Album.