Applied Research Associates, Inc. (ARA) and Blue Sun Energy, Inc. will be partnering for the design, construction and operation of a biofuels ISOCONVERSION Process (BIC) demonstration system using the ARA and Chevron Lummus Global (CLG) process for the production of certification quantities of 100 percent drop-in renewable jet, diesel and gasoline. The demonstration facility is scheduled for ground breaking in St. Joseph, Missouri in the first quarter of 2013 and will be operational in the third quarter of 2013.
According to ARA, CLG and their Biofuels ISOCONVERSION process produces fuels which are ready to use, without blending, in turbine and diesel engines designed to operate on petroleum-based fuels. The low-cost process converts any non-edible fats and oils directly into high-density aromatic, cycloparaffin, and isoparaffin hydrocarbons that are ideal for drop-in jet (JP-5, JP-8 and Jet A) and diesel (ASTM D 975 and F-76 Naval Distillate) fuels.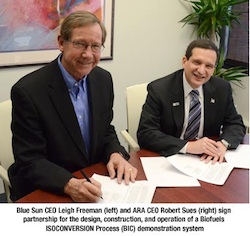 "The scale up of the Biofuels ISOCONVERSION process with our partners at Blue Sun will allow us to take a significant step toward commercial scale production of 100% drop-in fuels at prices competitive with petroleum in the 2015 timeframe," said Chuck Red, ARA's Biofuels Program Manager. "The hundred barrels-per-day demonstration system will be capable of producing large fuel samples, a key enabler for ASTM certification of our fuels."
The Secretary of the Navy has set energy goals that include achieving 50 percent of energy consumption from alternative sources by 2015 for non-tactical uses and by 2020 for Navy-wide uses. To achieve the goal, the Navy has tested biofuels for both jets and ships.
"This partnership aligns perfectly with Department of Defense goals for production of alternative fuels," said Leigh Freeman, CEO of Blue Sun. "The skill sets and experience of Blue Sun and ARA cover all aspects required to deliver renewable jet and diesel at DoD cost targets, on DoD timelines."
Blue Sun also operates a biodiesel facility in Saint Joseph, Missouri, and has completed capital investments and the final steps to commercialize a new enzymatic processing technology. Blue Sun says its technology will produce the highest quality fuel from any feedstock at the lowest production costs in the U.S.