Wade Hunt, a native of Sterling, Nebraska, has been awarded the National Ethanol Conference (NEC) Scholarship. Wade began his university academic career at the University of Nebraska-Lincoln as a chemical engineering student. From there, he was accepted as a research internship for the Undergraduate Creative Academic Research Experience (UCARE) program. He also selected to participate in NASA's Jet Propulsion Laboratory program, where he worked on proof of concept research for an extractor system. While in this position, he was able to perform analogous tests to degrade a common, large protein in aqueous solution. His senior project is to develop a packed bed reactor for the production of biodiesel. Wade is a firm supporter of renewable fuel resources and believes great strides need to be taken to further develop current and future processes to secure the world's energy needs.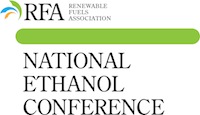 The opportunity to attend the NEC Conference: Driving Forward, in Las Vegas February 5-7, 2013 was made available by the Renewable Fuels Association (RFA) and the Renewable Fuels Foundation (RFF).  The focus of the foundation is toward academia, industry and public policy makers as the industry addresses issues related to new users, new feedstocks and new technologies that will impact the future of ethanol. This is the fourth consecutive year the scholarship has been available to students in higher education with a focus on renewable fuels and intending to pursue a career in the industry. Wade will receive complimentary registration to the conference, providing him an invaluable experience and opportunity to connect with hundreds of ethanol leaders, policy makers and experts in the renewable fuels industry.
"The NEC presents an extraordinary opportunity to those eager to learn about the industry, and we are proud to present another commendable student the chance to join us this year," said Mike Jerke, RFF Chairman and General Manager of Chippewa Valley Ethanol Company. "Ethanol's best will be on hand to showcase the bright future that lies ahead of the industry, and we hope Wade will leave even more encouraged by what our speakers have to offer."
This year's NEC program will highlight critical regulatory, marketing and policy issues facing the ethanol industry. Experts will speak to the current market situation, and address how we as an industry can continue to grow through innovation, new technologies and feedstocks, and by developing more diverse and global markets. Keynote speakers include USDA Secretary Tom Vilsack, Linda DiVall, President and CEO of American Viewpoint, RFA President and CEO Bob Dineen will give the state of ethanol report, among others.