USDA Secretary Tom Vilsack, who just accepted a second four-year term as part of the Obama Administration's second term, will give a keynote address at the National Biodiesel Conference & Expo in Las Vegas February 4-7, 2013. Vilsack is widely recognized for his leadership in support of the biofuels industry. His address will close out the conference on Thursday, Feb. 7.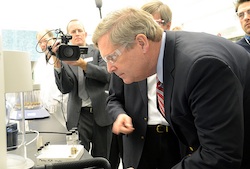 "Sec. Vilsack is one of the strongest advocates for renewable fuels in the nation, and we are thrilled to have him speak to our industry at the conference," said Joe Jobe, CEO of the National Biodiesel Board. "Federal biodiesel policies reduce dependence on foreign oil, build green jobs at home, and are stimulating a rural renaissance. Sec. Vilsack has played a huge role in the continued support for these policies, and we're looking forward to thanking him for his unwavering support."
Vilsack has called the biodiesel industry a shining example of the promise of a new rural economy, creating opportunities for energy security, farmers, and revitalized job growth in small towns.
In March 2011, President Obama laid out is goal of reducing oil imports by half by 2020 in his Blueprint for a Secure Energy Future. As part of the plan, the Environmental Protection Agency (EPA) has increased the federal targets for biodiesel under the Renewable Fuel Standard to 1.28 billion gallons. Another win for energy security came on Jan. 1, 2013 when Congress passed the American Tax Relief Act, which included a $1 dollar per gallon biodiesel tax incentive.
Jobe added, "As we celebrate the 20th anniversary of the National Biodiesel Board, one of our goals for this conference is to examine where we see America's Advanced Biofuel in the next 20 years. The Secretary has a vision for American agriculture's contribution to energy security and the economy, and we are eager to hear his insight on our long-term role."