Sungevity has completed a series of venture capital and project financings securing up to $125 million. The funding includes $40 million in equity financings raised in 2012 led by Oakland-based impact investment fund, Brightpath Capital Partners, and home improvement retailer, Lowe's. New equity investors Vision Ridge Partners, Craton Equity Partners and Eastern Sun Capital Partners, LLC, also participated. The funding also includes a combined $85 million in new project financing commitments from two parties including Energy Capital Partners (ECP) and an undisclosed commercial bank.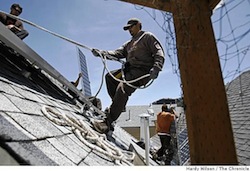 According to the company, the funds will be used to support the development of solar projects across nine U.S. states. The company also has a presence in Europe through Netherlands-based, Zonline, and in Australia through a joint venture called Sungevity Australia.
"Our ability to attract substantial investment from a list of respected backers is a powerful vote of confidence in our highly scalable growth model and customer-centric approach to doing business," said Andrew Birch, Sungevity's Chief Executive Officer. "We believe this new funding will take us into the next phase of growth and allow us to deliver on our mission of building the world's most energized network of customers who power their lives with sunshine."
In 2012, the company optimized its Solar Social Strategy, which helped the company overcome the sector's common hurdle of high-cost customer acquisition. Key components of the strategy include partnerships along with software that allows Sungevity customers to make referrals. The company also leverages Internet and satellite technology to circumvent the high overhead costs related to providing potential customers with pricing quotes, and it partners with a network of preferred local installers to offset staff-related installation costs. As a result, the company has reduced installation costs by 30 percent in 2012.
Nazar Massouh, who leads ECP's energy-focused mezzanine investment activities, added, "Energy Capital is excited to partner with Sungevity to provide an innovative and flexible capital solution to efficiently finance its on-going solar installations. Sungevity's unique customer acquisition approach, scalable business model and stable cash flow generated by its established customer base, is a natural fit for our diversified energy portfolio."