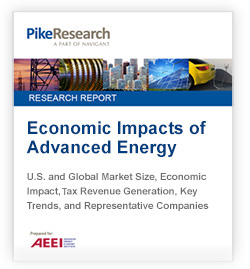 A new report shows that advanced energy became a $1.1 trillion market globally in 2011, outpacing even pharmaceutical manufacturing worldwide, and the U.S. sector is expected to have grown by 19 percent last year, with American revenues rising to $157 billion. The report from Advanced Energy Economy highlights how in 2011 alone, this advanced energy sector, including hydropower, solar, wind, geothermal, waste and biomass, generated more than $20 billion in federal, state and local taxes:
"Advanced energy is what happens when energy meets 21st Century technologies," said Graham Richard, CEO of Advanced Energy Economy, a national business organization. "This report defines precisely, for the first time, the size, breadth, and scope of the advanced energy industry. With a $1 trillion global market and a U.S. industry that is already bigger by revenue than trucking, advanced energy is a significant contributor to the economy today and has greater potential for tomorrow."
AEE defines advanced energy as the best available commercial technologies for meeting energy needs today and tomorrow. With global energy consumption projected to rise nearly 40 percent by 2030, future prosperity depends on meeting this growing demand with energy that is secure, clean and affordable.
Officials compare the potential of the advanced energy sector to transform society and the economy to how the Internet has created so many new opportunities. AEE admits that its estimates might be a bit conservative, understating the size and extent of advanced energy economic activity in the U.S. and around the world.