Ceres has been awarded the top prize in the non-governmental organization (NGO) category of the Zayed Future Energy Prize that honors innovative companies who have had a positive impact and shown strong leadership in the renewable energy and sustainability sectors. The award is part of the World Future Energy Summit, and this year's awards attracted 579 submissions from companies in 88 countries.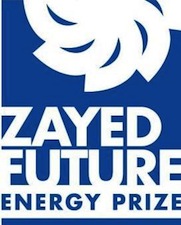 "We believe that investing in people is the future of our collective prosperity," said His Highness General Sheikh Mohammad bin Zayed Al Nahyan, Crown Prince of Abu Dhabi, at the awards ceremony. "Through the Prize, we are not only recognizing tremendous achievement, but also providing support to help accelerate promising technologies and fund organizations, schools and individuals committed to impacting communities around the world."
Olafur Ragnar Grimsson, President of the Republic of Iceland and Chairman of the Zayed Future Energy Prize Jury, noted that the winners show that change is possible and that vision and innovative thinking hold great promise through practical endeavors.
"Ceres is honored to receive a Zayed Future Energy Prize, and we believe it will enable us to have an even greater impact in our work," added Mindy Lubber, President of Ceres. "In order to tackle the global challenge of climate change, we must expect even bolder action from investors, businesses, and policymakers. We will use the Prize to expand international investor leadership on clean energy and to grow our ongoing work with leading companies that are striving to integrate sustainability into their operations by reducing greenhouse gas emissions, improving energy efficiency and sourcing renewable energy."