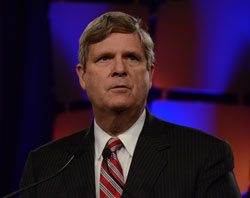 Secretary of Agriculture Tom Vilsack says the future success of biofuels in this country is also tied to successfully getting a new five-year farm bill passed. Speaking to delegates of the American Farm Bureau Federation at their annual meeting in Nashville, Tenn., Vilsack expressed his disappointment that a new farm bill was not passed … reserving some of his stronger language for maybe a smaller gathering. But he says the impacts of a new farm bill will be on more than just the mainstream renewable fuels, ethanol and biodiesel. It is for the overall bio-based economy.
"I've seen the ability to use corncobs and switch grass and algae and a wide variety of things that are grown and raised or could be produced in rural areas, converted into plastics, into chemicals, into fabrics, into fibers, into fuel, into energy. It is an unlimited future. But we require support and assistance and help and a commitment through a five-year bill," Vilsack explained.
Vilsack reminded his audience who knows full well that rural America is providing the feed stock for most of the energy and most of the fuel that's consumed and used across the country, while providing millions of jobs, many of those in the renewable energy sector. And he said that rural economy, booming with renewable energy, will attract young folks back to the heartland.
"If I were talking to a young person, I would say, you're concerned about our overreliance on foreign oil, you can solve that problem in rural America."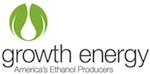 Vilsack also announced that he plans to serve another term as Secretary of Agriculture … a move applauded by Tom Buis, CEO of Growth Energy:
"Secretary Vilsack has been a tireless advocate for the renewable fuels industry, and I commend President Obama for his reappointment to the Department of Agriculture. I am confident that Secretary Vilsack will build upon his excellent service record supporting renewable fuels and economic growth across rural America. I know that during his tenure he will continue his strong advocacy for biofuels increased market access for higher ethanol blends such as E15.
You can listen to or download Sec. Vilsack's speech here: Sec. Vilsack Speech
And his press conference after the closing session here: Sec. Vilsack Press Conference