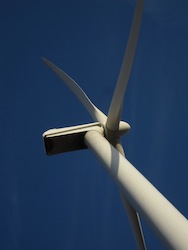 January 15, 2013 is Iowa Wind Day at the Capitol, in Des Moines, Iowa. Iowa Governor Terry Brandstad will be a featured speaker during the event and other speakers include Kathleen Law, the Iowa Wind Energy Association's (IWEA) Board of Directors President, and Harold D. Prior, IWEA's executive director.
The free event will feature more than 20 exhibitors representing many aspects of Iowa's wind energy industry. Exhibits are open from 8 a.m. until 12 noon for legislators and renewable energy enthusiasts to learn more about the wide diversity of opportunity in the wind energy industry.
Iowa leads the nation in the number of wind manufacturers and wind related businesses and was the first state to exceed 20 percent of its electrical generation from wind. The state also leads the nation in the number of wind jobs and its ranked third nationally behind Texas and California in installed capacity. According to IWEA, Iowa is one of four states that would benefit the most from increased wind investment and has outstanding wind resources. Iowa's central location, access to two navigable rivers and the U.S. Interstate Highway system are also distinct advantages leading to further growth of the wind energy industry in Iowa. Lastly, Iowa has many planned electrical transmission projects that will help move wind power (aka all power) to Iowans living throughout the state.