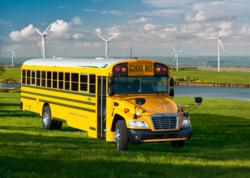 Students in O'Fallon and St. Peters, Missouri are riding to school in Blue Bird propane-powered vision school buses. The Fort Zumwalt School District piloted eight propane-powered school buses and found that they cut costs and reduced emissions. Since last June, the buses have produced 60 percent less carbon monoxide, 12 percent less carbon dioxide, 20 percent less nitrogen oxide and up to 25 percent less greenhouse gases when compared to gasoline. In addition, for the current fiscal year, the district is averaging $2.15 per gallon less than diesel fuel.
"The district is saving around 18.9 cents per mile due to lower fuel costs and anticipates these 8 Propane-Powered buses will save approximately $18,000 this school year," said Jeff Orr, chief financial officer for Fort Zumwalt School District. "I have been told Fort Zumwalt is the first school district in the state of Missouri to add Blue Bird's innovative Ford and ROUSH CleanTech powered propane buses to its fleet, and we are pleased to be the leader."
Earlier this week, the school district won the Community Leadership in Environmental Awareness Now (CLEAN) award, presented by the Missouri Propane Education & Research Council. The award recognizes organizations that replace conventional fuel consumption for cleaner burning, domestically produced propane.
"We are delighted that Fort Zumwalt School District is seeing the immediate savings and environmental benefits associated with our propane technology," added Phil Horlock, president and CEO of Blue Bird Corporation. "These buses will ensure that students in O'Fallon and St. Peters benefit from cleaner air while taxpayers can relish in the fuel and maintenance savings associated with propane autogas. With our partners at Central States Bus Sales and ROUSH CleanTech, Blue Bird will continue to provide comprehensive training and support to the transportation team at Fort Zumwalt."