According to Liu Qi, deputy director general of the National Energy Administration, wind power is the third-largest source of electricity in China. He proclaimed that there is no electric power to substitute the position of wind power as No. 3, during the 18th CPC National Congress. He added that China "is determined to promote the revolution of energy generation and consumption to control the total consumption of energy, to improve energy conservation, and to support the development of energy conservation and the low carbon industry as well as renewable energy in order to ensure the safety of national energy."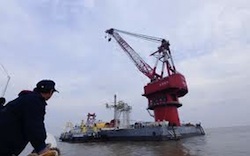 Late last year, the State Council released the white paper, "China's Energy Policy 2012," stating that wind power has the greatest possibility of large-scale development and market utilization. The country's development of wind power is the fastest in the world and China's 12th Five-Year Plan, sets a goal of developing wind energy in both concentrated and distributed formats and the utilization of wind resources will be accelerated including the development of offshore wind power.
Qi also announced that China is committed to strengthening grid construction, improving grid dispatching, enhancing equipment performance, advancing wind power predictions and forecasts, more. The goal, by 2015, is for the country's total wind turbine installed capacity to reach 100 million kW, including 5 million kW offshore.
On November 23, Longyuan Wind Power realized the completion of 150 MW in an offshore wind demonstration project in Rudong, Jiangsu Province. This is the largest offshore wind farm to date in China. As more projects continue to be developed, the county's industry is hosting Offshore Wind China 2013 being held in Shanghai June 19-21, 2013. The event is being organized by the Chinese Renewable Energy Industries Association, the National Renewable Energy Center, and Shanghai International Exhibition Co., Ltd.