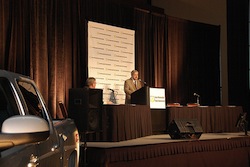 One of the key topics for discussion during the free, 7th Annual Iowa Renewable Fuels Summit and Trade Show being held in Altoona, Iowa on January 30, 2013 is future trends for U.S. agriculture and fuels. The "Market Outlook for 2013 and Beyond" panel will include Robert Gough, Director of Renewable Fuels for the Oil Price Information Service (OPIS), who will provide an analysis of crude oil and renewable fuels price trends through the next decade.  Also joining the panel will be Nathan Kauffman, an economist with the Federal Reserve Bank of Kansas City, who will discuss his recent publication which highlights the role of markets in determining the scale of ethanol production and its use of corn in the future.  The final panelist and moderator, John Urbanchuk of Cardno ENTRIX, will highlight the impact of renewable fuels on Iowa's economy.
"This panel will provide the Summit audience with a glimpse of what to expect for renewable fuels and gasoline production, demand and pricing and its impact on farm commodities now and in the future," said Monte Shaw, Iowa Renewable Fuels Association's (IRFA) executive director. "This panel will be an excellent compliment to announced speakers like Gov. Terry Branstad and Growth Energy's Tom Buis.  Additional speakers will be announced soon."
The Iowa Renewable Fuels Summit provides a great opportunity to hear experts address state and national issues facing the future of renewable fuels, as well as network with biofuels professionals and business leaders throughout the Midwest. Registration for this free summit is currently open and you can register online here. Can't make it to Des Moines? The DomesticFuel team will be onsite to bring you live and post event coverage.