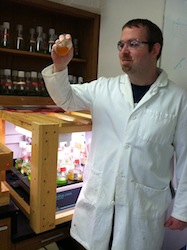 Several students from around the U.S. will get a hands-on biodiesel education during the National Biodiesel Board's Annual Conference: Momentum, February 4-7, 2013 in Las Vegas. Sixteen young college scientists were selected to receive scholarships to the conference, a program the National Biodiesel Board views as a long-term investment.
"There is tremendous potential for this NBB program to have a lasting impact on biodiesel research," said Kyle Anderson, NBB's Technical Projects manager. "It's a great investment to share solid information and build relationships with tomorrow's scientific thought leaders."
The scholarships were awarded to members of the Next Generation Scientists for Biodiesel, an NBB program that aims to educate and collaborate with young scientists. This year's scholars come from schools such as Utah State University, University of Colorado, Texas A&M, Southern Illinois University, and Clemson University.
"I believe the knowledge and professional network I will gain from this conference will only allow my passion for biofuels to grow, and will strengthen my commitment to continue in a field that is so important to our quest for global sustainability," said Nina De la Rosa, an Environmental Studies student at Florida International University in Miami who was awarded one of the scholarships, and will present a poster on her research during the event.
The scholarships are funded by state soybean organizations and the United Soybean Board through the soybean checkoff. To learn more about the NBB Conference including online registration click here. You can learn more about the Next Generation Scientists for Biodiesel here.