According to a policy brief authored by Bruce Babcock with the Center for Agricultural and Rural Development (CARD), the U.S. ethanol industry will face lower profit margins in 2013 due to increased corn prices caused by the drought. With a saturated ethanol market, ethanol mandates that will be implemented in 2013 and 2014 can possibly be met only if ethanol prices are heavily discounted. As a result, Babcock writes that profit margins will continue to be low even if production costs fall after the harvest this fall. The brief also cites that ethanol buyers can draw on blending credits, or Renewable Identification Numbers (RINs), that have been accumulated over the last few years in lieu of ethanol to meet requirements set forth in the Renewable Fuel Standard (RFS).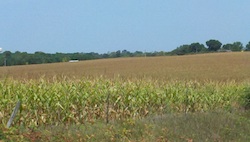 The "Outlook for Ethanol and Conventional Biofuel RINs in 2013 and 2014," policy brief looks at how the next two years could unfold in the ethanol market by looking at scenarios of whether obligated parties use banked RINS in 2013 to help offset current high production costs or in 2014 to offset low ethanol prices. The guiding thought is that ethanol buyers will use their RINS when they have the greatest value.
The analysis finds that due to the E10 blend wall along with high ethanol production costs, many buyers will use their banked RINS in 2013 to meet their RFS obligations. "If, as seems likely," the brief states, "imported sugarcane ethanol is used to meet the portion of the advanced biofuels mandate that is not met by biodiesel meeting its own mandate, then almost all the banked RINs should be used in 2013."
Regardless of the scenario, the analysis indicates that that RIN prices will be low in both 2013 and 2014 and low future prices are why conventional biofuel RIN prices are low today. The assumption for this scenario is that heavily discounted ethanol will incentivize significant amounts of additional ethanol consumption from owners of flex fuel vehicles or by an unexpectedly large and rapid movement to use of E15. Should this not occur, Babcock concludes that the EPA will have no choice but to waive conventional ethanol mandates in 2014 because the mandate will exceed the ability of consumers to use ethanol.