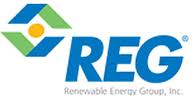 Renewable Energy Group (REG) has announced that its REG Newton, LLC loan with AgStar Financial Service, PCA was extended for one additional year. The biodiesel facility entered into this debt agreement with AgStar in conjunction with the related March 2010 acquisition of the assets of Central Iowa Energy, LLC.
"We're pleased that the lender syndicate saw fit to extend this note in a routine manner," said REG Chief Financial Officer, Chad Stone.
The new maturity date is March 2014, and all material terms remain the same for the 30 million gallon per year biorefinery.