NextEra Energy Canada has completed its first wind farm in Ontario Canada – Conestogo Wind Energy Centre. The 22.9 megawatt wind project is located in Wellington County, Ontario, and comprised of 10 Siemens wind turbines. The wind farm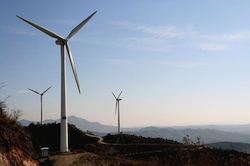 has the capacity to generate enough energy to power around 5,700 homes per year.  All of the power from the project is being sold to the Ontario Power Authority under the Feed-In-Tariff program. Conestogo Wind, LP, an indirect subsidiary of NextEra Energy Canada, owns and operates the project.
"We are pleased to have completed our first wind project in Ontario," said Mike O'Sullivan, NextEra Energy Resources senior vice president of development. "In addition to generating clean, emission-free energy, this project will have a positive impact on the local economy through the jobs created, taxes paid, lease payments to landowners, and goods and services sourced throughout the region."
The Conestogo Wind Energy Centre is the first of eight wind projects NextEra Energy Canada plans to bring into service by the end of 2015 in Ontario. Combined, NextEra Energy Canada's eight Ontario wind projects represent a capital investment in the province of approximately $1.5 billion.